Welcome to Spring Semester 2015
We hope you have had a wonderful break and are ready to begin another exciting semester at Iowa State! Please take a moment to look through the following information and useful tips to assist you in updating in-session addresses, emergency contact information, important deadlines, and other  information.
---
What is a Registrar's Office?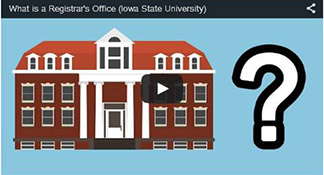 So, what exactly is a Registrar's Office and what kinds of services do we provide? Check out our new video.
---
Spring Semester 2015
Classwork begins, Mon., Jan. 12
University holiday, offices closed, Mon., Jan. 19
Spring break, classes recessed, Mon. - Fri., March 16-20
Final exams, Mon. - Fri., May 4-8
Graduate College Commencement, Fri., May 8
Veterinary Medicine Commencement, Sat., May 9
Undergraduate Commencement, Sat., May 9