Enrollment Statistics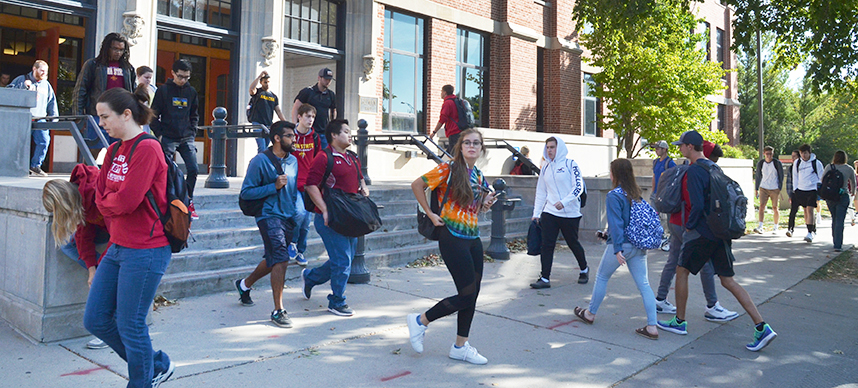 Iowa State Fall 2021 at a glance

Total Enrollment: 30,708

Undergraduate Total: 25,808 students
Graduate Students: 4,264 students
Professional Students: 636 students
 
Fall 2021 University Summary Report
Spring 2021 University Summary Report
Summer 2021 University Summary Report
Spring 2022 University Summary Report

ISU News Service Release
---
Interesting Statistics 2021 
New student enrollment is up, with 6,741 new students enrolling for Fall 2021. This includes 5,387 freshmen, an increase of 316 compared to Fall 2020. 

The freshman class is the most diverse class in Iowa State's history, with a record 980 U.S. multicultural freshmen enrolling, representing 18.2% of the new freshman class. 

The academic profile of the freshman class is among ISU's best—Average high school GPA is 3.70, the second highest. 

Students come from every county in Iowa, every state in the country, and from 112 countries.  

59% of all enrolled students are in a STEM major at Iowa State University of Science and Technology. 
This fall, 17,232 Iowans are attending Iowa State (56.1% of the student body). 

A total of 2,532 international students enrolled at Iowa State in fall 2021, comprising 8.2% of the total enrollment. 

Of the total number of students enrolled in fall 2021, 13,761 (45%) were women and 16,947 (55%) were men. 

Of undergraduate students, 44% were women, while 82% of professional students were women and 44% of graduate students were women. 
About the Data 
Enrollment reports are released on the 10th academic day of the Fall and Spring semesters (early-September and late-January), and on the 10th day of the second summer session (late-June). 
The above information was prepared by the Office of the Registrar, Iowa State University. Iowa State employees may access additional data through the Student Self-Service portal of e-Data via the uBusiness tab in AccessPlus. Supervisors can request employees have access to e-Data through this link. Additional public reports are available from Institutional Research.