Waiver Request/Non-Approved ISU Course Substitution:
U.S. Diversity and International Perspectives
Effective November 3, 2014, an on-line process using the Degree Audit Adjustment Form available in Access Plus should be used to request, approve and document either of the following alternative ways of meeting the U.S. Diversity or International Perspectives requirements.  
1. Use of an ISU course (or course transferred in as equivalent to an ISU course) that is not on the list of courses approved to meet the U.S. Diversity requirement or International Perspectives requirement
OR
2. Use of life experiences or special circumstances to request a waiver of the U.S. Diversity requirement or International Perspectives requirement.
This process replaces the paper form and signature routing process.
Note: The "Request to Apply a Transfer Course to Satisfy US Diversity / International Perspectives Requirement" form cannot be routed using the new system.  Students wanting to use a transfer course that has not already been approved and that does not have a direct ISU equivalent should continue to use that form and paper process.
Supporting Document Required as an Attachment to the Request
If requesting a substitution of a non-approved ISU course, explain the circumstances of why a non-approved course should be allowed.  Examples of documentation may include the following:
Copy of Independent Study Agreement that outlines outcomes, etc. for an independent study class related to U.S. Diversity or International Perspectives Requirements
Explanation of why for a particular semester a seminar/topical course has a U.S. Diversity/International Perspectives emphasis – including a copy of the syllabus and a memo from instructor
Waiver: If requesting a waiver of the requirement based on the student's unique life experience and/or special circumstances, the student must provide documentation on how their unique life experiences meet the intent and learning outcomes of the U.S. Diversity/International Perspectives requirement. The documentation must address in detail how at least two of the learning outcomes were achieved. Course credits are not awarded for approved waivers; only the requirement is waived.
U.S. Diversity Learning Outcomes
Through completion of the U.S. Diversity requirement, students will achieve at least three of the following learning outcomes:
Identify the experiences and contributions of underrepresented or marginalized groups and how they have shaped the history and culture of the United States.
Understand the analytical concepts of culture, ethnicity, race, gender, sexuality and/or religion and be able to apply these concepts to an analysis of the United States.
Analyze systemic oppression and personal prejudice and their impact on marginalized communities and the broader U.S. society.
Evaluate important aspects of diversity, equity, and inclusion so they can live, work, and collaborate with others in the 21st century United States.
International Perspectives Learning Outcomes
Students will be able to:
analyze the accuracy and relevancy of their own worldviews and anticipate how people from other nations may perceive that worldview.
describe and analyze how cultures and societies around the world are formed, are sustained, and evolve.
analyze and evaluate the influence of global issues in their own lives.
describe the values and perspectives of cultures other than their own and discuss how they influence individuals' perceptions of global issues and/or events.
communicate competently in a second language.
 
Electronic Process for U.S. Diversity/International Perspective Waivers and use of Non-Approved ISU Course Substitutions

Step 1 – STUDENT:  Provides the supporting documentation (examples provided on the previous page) for the request to his/her academic advisor.
STEP 2 – ADVISOR:
Logs into Advisor tab in Access Plus and enter Student ID and then select DegreeAuditAdj to initiate the request.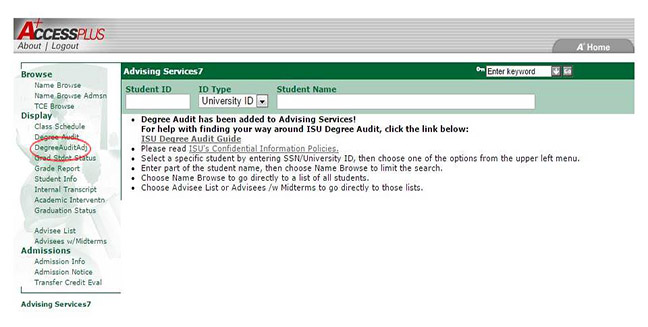 Fill top part of the form as needed (be sure to choose the correct major if the student has more than one)
In the Special Changes Requiring Additional Approvals Section, click on the appropriate "Selected" box for the
             Provost: U.S. Diversity or Provost: International Perspectives.

Provide any additional notes from the advisor
Attach the documentation provided by the student to the request
Click the submit button to begin the routing process (to college office, then provost office).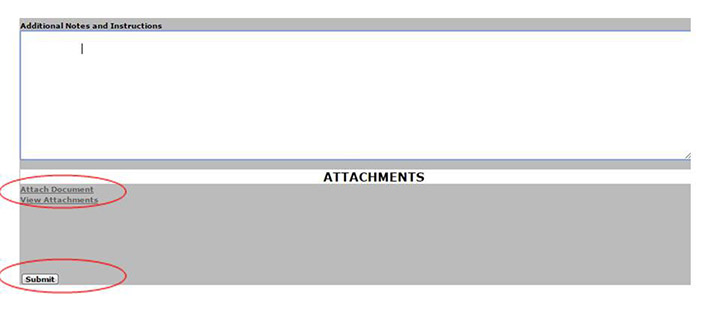 STEP 3 – NOTIFICATIONS: The form and all attached documents will be routed both to the college office and then the provost office for review and approval/denial.  Advisors will receive a notification in their Access Plus, Kuali In Basket letting them know what action has been taken.