Enrollment Statistics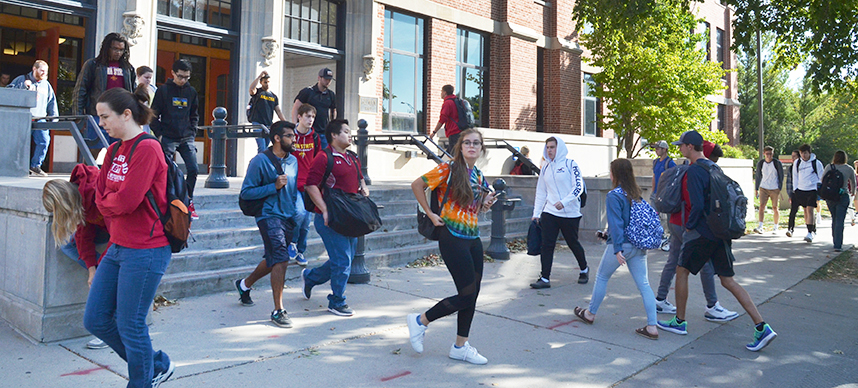 Iowa State at a glance Fall 2018

Total Enrollment: 34,992  (the fourth largest in school history)

Undergraduate Total: 29,621
Graduate Students: 4,774 students
Professional Students: 597 students
 
Fall University Summary Report

ISU News Service Release
---
Interesting Statistics 2018
New direct from high school students (freshman class) of 6,047 students includes 3,362 Iowans.
The freshman class has an average ACT score of greater than 25 and an average high school GPA of 3.64.
Students come from every county in Iowa, every state in the country, and from 126 countries.
This fall, 19,022 Iowans are attending Iowa State (54.4 percent of the student body).
A total of 3,691international students enrolled at Iowa State in fall 2018, comprising 10.5% of the total enrollment.
Of the total number of students enrolled in fall 2018, 15,083 (43%) were women and 19,909 (57%) were men.
Of undergraduate students, 42% were women, while 82% of professional students were women and 43% of graduate students were women.
Nearly one in four Iowa State students is either a minority or an international student. Total U.S. minority and international enrollment is 8,554 or 24.4% of the student body. U.S. minority enrollment is 4,883 (14% of total enrollment). For the past twelve years, Iowa State has met or exceeded the 8.5% minority enrollment goal set by the Iowa Board of Regents.
---
About the Data
Enrollment reports are released on the 10th academic day of the Fall and Spring semesters (early September and late January), and on the 10th day of the second summer session (late June).
The above information was prepared by the Office of the Registrar, Iowa State University. Additional reports are available from Institutional Research.